"The Wind Kept" music video kickstarter campaign
Only 6 days left on our music video kickstarter campaign, updated the rewards, getting original art created for the music video is now easier. Help us out! Here's some animation art and event poster.
Watch
wemakepdx: A sweet little video highlight from the Santiago Uceda & Jon MacNair sketchXchange, created by Paul Searle of Maxine Denver.
Watch
I'm working on a live motion/animated music video for Brave Julius, it was shot at the historic Whiteside theatre in Corvallis, OR. We launched a kickstarter campaign to fund video production and put together a show for the video's premiere at the Whiteside theatre. Help us out, thanks! http://kck.st/VbuWxQ
WeMake :: connect. create. collaborate: In Other... →
wemakepdx: We're excited to start the year off with a special sketchXchange featuring artists, Jon MacNair and Santiago Uceda. These guys are both awesome illustrators, each with their own unique style, coming together to share a sketchbook collaboration. The two admired each other's work on…
6 tags
Happy Gifmas!
2 tags
Animated beaver
This is Benny, the university mascot from my day job, animated by our talented intern Evan Gutt.
3 tags
5 tags
Redux - Skulls
Couple of paintings for Skulls group show at Redux in Portland.
3 tags
Put a Bird in it
Birdhouse for Put a Bird in it, it will be auctioned off at Union Pine on October 12th during Portland Design Week. See more photos on flickr. Photo by Justin Smith
4 tags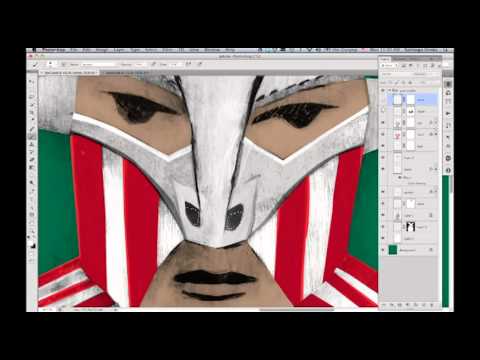 4 tags
Jumping jacks
18 tags
11 tags
9 tags
Summer, illustrated
First one in a series of ink drawings documenting my summer.
5 tags
Jiu-Jitsu
4 tags
Constellation
3 tags
Print exchange
7 tags
6 tags
Pop up
I've been wanting to do a pop up book or card for a while, it took a few attempts to get it right, here's the end result. It's part of the collaborative sketchbook project I've been working on with Jon MacNair.
6 tags
Moleskin project
Here are before & after spreads from the ongoing collaborative sketchbook project with Jon MacNair: I've been working with color in every single page so far, decided to keep this one black & white and not worry too much about composition or content, just pick up a brush, draw and see what happens.
9 tags
Pony Club Gallery - New Life
New work for a group show at Pony Club Gallery in Portland, OR. http://www.ponyclubpdx.com/ More from this series:  http://www.flickr.com/photos/suceda/
4 tags
Portraits - Sketchbook collab with Jon MacNair
There's a study of a portrait by Barthelemy d'Eyck titled "Portrait of a Man" that Jon did in his moleskin, I was hesitant to modify it since it was such a great portrait (hair's great too, wanted to keep that), but I had an idea in mind so I just went for it. On the opposite page I drew a study of a self portrait by Alexander Calder, can't wait to see what...
Howdy Folks
Another spread from moleskin exchange project, this one was inspired by a painted rooftop I see every time we visit Newport, OR. 
Collaborative sketchbook
Another sketchbook spread from my collaborative project with Jon MacNair.
Collaborative sketchbook project with Jon MacNair
A few months ago Jon MacNair & I decided to collaborate on a project, Jon came up with the idea of trading sketchbooks. He sent a moleskin with some drawings and paintings in it and I finally got a chance to add some drawings and painting of my own to the sketchbook he sent me. These are before (Jon's sketches) and after (my contribution) pages from the sketchbook. He has been working with...
8 tags
Artcrank Portland
2-color screen print for bike-inspired group show http://artcrank.com/portland
8 tags
Oregon Home magazine
I did some illustrations for Oregon Home magazine for an article that tries to define what the Oregon home style is, it was an interesting challenge. I tried to capture some of the attributes of the Pacific Northwest aesthetic in the illustrations. Jon Taylor Carter the art director sent me some keywords and ideas that sparked lots of images in my mind: the temporary-ness of the home, culture of...
Landscapes & snakes
1 tag
theartfuls.com interview →
Brief interview where I talk about process, style, getting blocked for ideas and other things
5 tags
4 tags
Jared Mees & The Grown Children t-shirts
A couple of t-shirt designs for Jared Mees & The Grown Children, they will be for sale at their shows. You can pick one up at one of their upcoming shows.
3 tags
Luchadores
These are part of the latest series I'm working on, they might become t-shirts, prints, or I might start another loteria set with these characters.